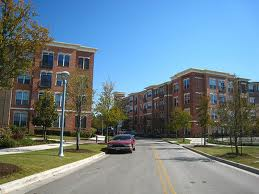 Specialized multi-family building services of multi-family housing units calls for a contractor with deep experience and the resources necessary to meet the challenge. Aaron's Restoration has been providing a wide array of high quality services to apartment owners and condominium managers across Michigan for more than 15 years.
Whether it is new construction, repair or renovation, Aaron's Restoration's full service approach brings together all the trades necessary for a successful project. Advanced planning and coordination helps to ensure a project that runs smoothly and efficiently, meeting deadlines and budgets at every step.
Among our services for multi-family developers and managers are:
Project management
Design & engineering services
Site preparation
New construction
Additions & capital improvements
Repairs & renovation
Maintenance programs
Property management services
Multi-Family Building Services You can Rely on
The typical condominium association faces an array of problems on a daily basis.  These problems could stem from faulty original builds, storms or even age.  A basic maintenance program can and will prevent extensive damage to your community.  But, when disaster strikes, you want a plan in place to prevent unnecessary damage.  Water usually is the most frequent of the disaster situations.  It will find its way into all cracks and crevices of your property.  Quick and precise action can and will keep the costs to a minimum.  Many times if the loss is handled promptly enough, you won't require the involvement of your insurance company.
1. Contact a restoration company with the proper equipment to diagnose the area of penetration or burst. At Aaron's Restoration, we have the equipment to get the job done.
2. Have the restoration contractor take the necessary steps to stop the water before the mitigation process is started.
3. Take moisture readings of the affected area and surrounding areas.
4. Correctly map out exactly where the water has damaged the unit.
5. Remove all wet drywall, flooring, insulation, etc.
Drywall will act as a sponge.  1 inch of water on the floor will travel approximately 6 inches up the drywall within an hour.
Insulation will never dry in a cavity that does not have airflow.  9 times out of 10 it is more cost effective to remove the insulation.
All flooring directly glued to concrete must be removed.  Flooring is a great place for

spores

to grow.
6. Have the contractor bring in the proper equipment based on the size and configuration of the unit (s).  During the winter, supplemental heat may be necessary to dry the unit to correct levels.
7. Make sure to have the contractor monitor the equipment daily.  Readings must be taken if you intend on filing a claim.  This will also tell the contractor if some or all equipment can be removed.  A typical mitigation should not take more than 3 full days if done properly.
8. Have an experienced multi family contractor like Aaron's provide an estimate for all the damages.  A contractor with knowledge of the bylaws will save the association in the long run.  Many insurance companies will pay the entire claim without taking the bylaws into consideration.
Following these simple steps above will save time, money and prevent headaches for your co-owners and fellow board members.
P.S.  Don't forget to winterize all vacant or foreclosed units before the wonderful Michigan winter weather strikes.
For complete multi-family Michigan construction and multi-family building services, call Aaron's Restoration today.
CALL 888-442-2766 or Fill Out the Form Below