Sewage Backup Cleanup, Removal, Repair & Restoration
We Respond Anywhere, Including Ohio, Illinois, Indiana, & Wayne, Macomb & Oakland County Michigan
Why choose us for your sewage backup removal?
24/7 live calls
Response within one hour
Serving the community for 15 years
Owned by disabled US veteran
A- rating by the Better Business Bureau (BBB)
We will cover your deductible!
Free estimates
Extremely experienced, clean and professional staff
We spend time with you and make sure you understand what's happening every step of the way.
Rapid response & damage repair if you have a sewage backup
Backup of sewage into your home or business can be a serious health hazard, not to mention the cause of significant property damage. Because of the serious health dangers associated with human and animal exposure to raw sewage, the removal and cleanup process should begin as soon as possible.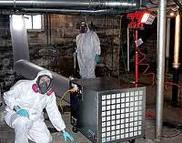 No matter whether you have a small sewerage backup or large problem, it is important to have it assessed by the professionals from Aaron's Restoration.
Left unchecked, sewage backup can damage walls, flooring, HVAC systems, ductwork, furniture and other possessions. Toxins, mold, mildew and airborne viruses and diseases also pose a real danger. That's why a sewage spill or backup must be cleaned using specialized cleaners, equipment, and protective gear. Only persons trained in the proper techniques and equipped with specialized sewage removal and restoration equipment should attempt to clean a sewage contamination. For sewage backup Clinton Township MI homeowners and businesses can turn to Aaron's Restoration.
24/7 Sewage Backup Response & Removal
A sewage backup can occur at any time. For that reason Aaron's Restoration remains available 24 hours, day or night. Our sewage cleanup Clinton Township MI based technicians are on-call and can respond to your emergency within 30 minutes. Our sewage cleanup teams can handle any size sewage contamination at any location, including residential homes and commercial properties.
Aaron's Restoration knows how crucial immediate cleanup can be to save your valuables and your family's health. Our sewage backup Clinton Township MI based team uses the latest technology to revive carpets, furniture, and walls. We can remove the dirt, mold, mildew, virus and germs using environmentally safe cleaning products that will leave your home refreshed, revived and — most importantly — safe and sanitary. The sewage cleanup team you should call today is Aaron's Restoration.
Our sewage cleanup services include:
Rapid response to your emergency
Water extraction with industrial equipment that reduces drying time from weeks to hours
Deep carpet cleaning and replacement, floor and wall restoration and repair.
Disinfect walls, floors, closets, cabinets
Deep clean furniture and evaluation of items for repair or replacement
When you suffer a sewage spill or backup make Aaron's Restoration your first call for clean up and recovery. We have helped hundreds of Michigan residents in Wayne, Macomb & Oakland County restore or repair their damaged personal property & home after a sewage backup or other disaster.
We are A rated by the Better Business Bureau and comply with all national and state regulations.
For sewage cleanup in Southeast Michigan,
Including Wayne, Macomb & Oakland County
CALL 888-442-2766 or Fill Out the Form Below