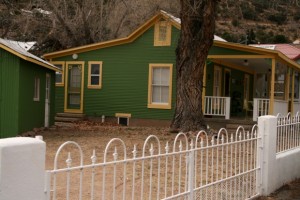 Don't Let Water Damage in Oak Park Wash You Out.
Do you have water damage in Oak Park, Michigan? Aaron's Restoration offers water mitigation services 24 hours a day, 7 days a week in order to provide swift service and avoid secondary water damage such as mold or compromised structure integrity. Call Aaron's Restoration for proper and thorough water mitigation from your residential or commercial property.
Don't Let Fire Damage Get You Fired Up.
Immediate fire cleanup is important in order to minimize loss. Aaron's Restoration can service cleanup and restoration of fire damage in Oak Park, including immediate boarding up of windows and covering roofs with tarps to avoid further damage to your property. Emergency fire cleanup services are available 24 hours a day.
Don't Let Smoke Damage in Oak Park Cloud Your Future.
To find state-of-the-art smoke cleanup restoration services and ensure thorough smoke cleanup in your entire home or business, hire Aaron's Restoration services. While fire damage is often contained, smoke damage can be much more pervasive. Aaron's Restoration is your go-to professional for smoke damage in Oak Park, Michigan.
Sewage Cleanup 24 Hours a Day, 7 Days a Week.
Sewage removal needs to be assessed as soon as possible to remove any danger to humans or animals. Backups can occur in your home or business at any time and Aaron's Restoration offers 24-hour availability for sewage cleanup in Oak Park supplying rapid sewage removal for your home or business.
When You Experience Storm Damage in Oak Park
Superior Storm Cleanup in Oak Park, Michigan.
From start to finish, Aaron's Restoration takes care of storm cleanup in Oak Park, Michigan. Extensive storm damage can be an expensive blow to any home or business. Aaron's Restoration services include emergency response, cleanup, reconstruction, and assistance through the insurance process. For thorough storm damage cleanup, call Aaron's Restoration.
Find Ice Dam Removal and Frozen Burst Pipe Repair in Oak Park, Michigan.
Hidden ice dams and burst pipe issues can surface in cold weather and are often destructive. Many home and business owners will not notice a problem until it is too late, so for preemptive ice dam removal in Oak Park, call Aaron's Restoration.
Cleaning Debris from Wind Damage in Oak Park, Michigan.
High winds from any storm can create hazards in the form of debris around your home or business. If you have experienced wind damage in Oak Park, call Aaron's Restoration.
[ssba]
| | | |
| --- | --- | --- |
| Other Cities we Serve: | Our Services: | Links and Resources: |
| | | |
| | | |
| | | |
| | | |
| | | |
| | | |
CALL 888-442-2766 or Fill Out the Form for help with Water Damage Grosse Pointe Park Michigan.