Michigan's Best Storm Damage Repair Company
We Respond Anywhere, Including Ohio, Illinois, Indiana, & Wayne, Macomb & Oakland County Michigan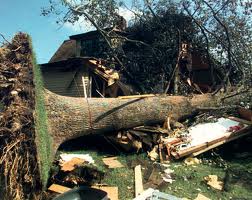 Michigan storm damage can result from high winds, hail, tornadoes, heavy rain and lightning. When dealing with the effects of a storm disaster, it's imperative that you choose a credible, experienced contractor like Aaron's Restoration. When Michigan storm damage strikes we have the expertise to swiftly return your home or business to it's original condition – or better!
Aaron's Restoration can handle the entire restoration process, from emergency response and damage mitigation, through cleanup and reconstruction. Our professionals have the experience and knowledge to expedite the insurance process and get you through it smoothly so your life can get back on track as soon as possible. To repair storm damage Michigan homeowners turn to Aaron's Restoration.
Rapid Initial Response & Complete Storm Damage Reconstruction
Our emergency response team is available 24/7 to meet your needs for single-family homes, condominium complexes, apartment buildings and commercial structures. Aaron's Restoration first task is to identify the storm damage repairs that need to be performed. We also develop estimates for your insurance company's approval and prepare these estimates with the same software used by most insurers, usually within 48 hours of reviewing storm damage.
If there is no time for an estimate – and immediate emergency repairs are called for – we will contact your insurance company and work side by side with the adjuster to assure all steps in the remediation and restoration process are in line with your insurance coverage.
Our goal is to get your possessions – particularly valuable or sentimental objects – out of the Michigan storm damage environment. We transfer the contents to secure, climate-controlled storage, where we inventory them for your peace of mind. Our professionals have the expertise to dry and clean personal items and heirlooms such as photographs and books.
Storm Damage Repair Trained and Certified
Our employees are fully trained on the latest Michigan storm damage cleanup methods. We meet the strict certification standards of national industry associations, attesting that we are fully versed in all aspects of storm damage restoration. Aaron's Restoration provides a weekly update as your project progresses, so you know exactly what has been accomplished and what the next steps will be.
Complete Michigan Storm Damage Repair Services
Aaron's Restoration can handle all your storm damage repair needs, including:
Immediate action to secure your property and help prevent further damage
Repair hail and roof damage and provide emergency water damage mitigation
Mobile emergency vehicles on-site with electrical generators, materials, tools and supplies
Inspection and evaluation to determine

extent

of damage
Board-up & security services to prevent theft, injury, or additional damage
Restore electric, natural gas, and heat if necessary
Temporary plumbing repairs, drain down to prevent

freeze

Window glazing and replacement
Emergency tree removal (if necessary)
Remove debris and

cleanup

Contents

removal, storage and restoration
Transition to reconstruction
Rebuild Your Home &  Your Life after Storm Damage
We also provide full reconstruction services to repair or replace structural damage:
Full Service Licensed and Insured General Contractor
Residential and commercial work
Recognized by major insurance companies
Insurance

claim

estimating, full service coordination of claim
Demolition, removal of debris,

cleanup

Temporary off-site storage of contents in secure, climate-controlled warehouse;
Quality materials from basement to roof

Compliance

with all building codes & OSHA safety standards
Warranties meet or exceed state requirements
Satisfaction guaranteed
If you have suffered Michigan storm damage make Aaron's Restoration your first call for storm damage clean up and recovery. We have helped hundreds of Michigan residents and businesses in Wayne, Macomb & Oakland County restore or repair their damaged home or building after a storm or other disaster.
For Storm Damage Repair
CALL 888-442-2766 or Fill Out the Form Below