Michigan's Best Fire Restoration & Smoke Removal Company
We Respond Anywhere, Including Ohio, Illinois, Indiana, & Wayne, Macomb & Oakland County Michigan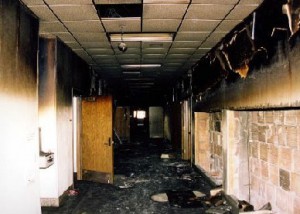 The shock of a fire in your home or business can be devastating – and quickly lead to concern over how the damage will be repaired. Aaron's Restoration is ready to assist you in the fire cleanup and restoration process, including complete smoke removal. The actions taken immediately following a fire are critical in limiting loss. That's why we provide 24-hour service in Michigan. Call us at any time of the day or night for fast emergency response. For fire restoration & smoke removal, Michigan property owners can rely on the experts at Aaron's Restoration.
How to Deal with Fire Damage in Michigan
The initial step in securing the dwelling or business after a fire may be boarding up windows and doors and covering any roof damage with tarps. Our 24-hour emergency service provides immediate board-up service to help prevent any further damage to your contents or structure.
The next step in fire restoration is to remove any standing water from the home. Aaron's Restoration can assist with water removal. After the home has been secured, we work with your insurance company to address the scope of damages than may include cleaning, deodorizing, or reconstruction of damaged areas.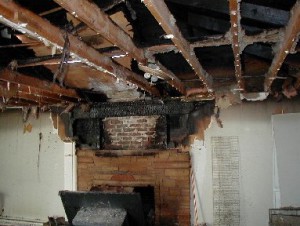 At Aaron's Restoration we recognize the value you place on your personal property. All property ranging from antiques to everyday items such as upholstery, hard furniture, electronics, and collectibles is treated with respect and care. In most cases personal property will be addressed on the premises. If severe damage has occurred furniture and contents will be removed from the home, inventoried and cleaned in a secure facility.
We Work with Your Insurance Company for Fire Claims
A homeowner must act promptly in accordance with their insurance policy guidelines in reporting and mitigating fire and smoke damage, to obtain the maximum insurance settlement. Our estimators can quickly assess the damage and provide a detailed estimate for the required repairs – for submission to your homeowners insurance company. We work with your insurance adjuster to ensure the project is properly evaluated. Aaron's Restoration handles all phases of the reconstruction to rapidly restore your property to its prior condition.
Smoke Damage Repair & Smoke Smell Removal Services
While damage from fire is typically localized, damage from smoke can seep throughout the structure affect your entire home or business, including furniture, fixtures, clothing and other items. We offer state-of-the-art smoke ejection and restoration services to provide a thorough "scrubbing" of your property and your belongings.
Choose an Experienced Fire Restoration & Smoke Removal Company
When selecting a company to help repair water damage, smoke damage or fire damage, choose a company with a track record of proven success. Aaron's Restoration employs highly trained and experienced technicians using state of the art equipment and cleaning techniques for the best service in the industry. We are also fully insured and bonded.
For fire and smoke damage make Aaron's Restoration your first call for clean up and recovery. We are the Michigan fire restoration experts.
For Fire Restoration & Smoke Removal Services
CALL 888-442-2766 or Fill Out the Form Below: